Clida Batten
Marker Image/Sketch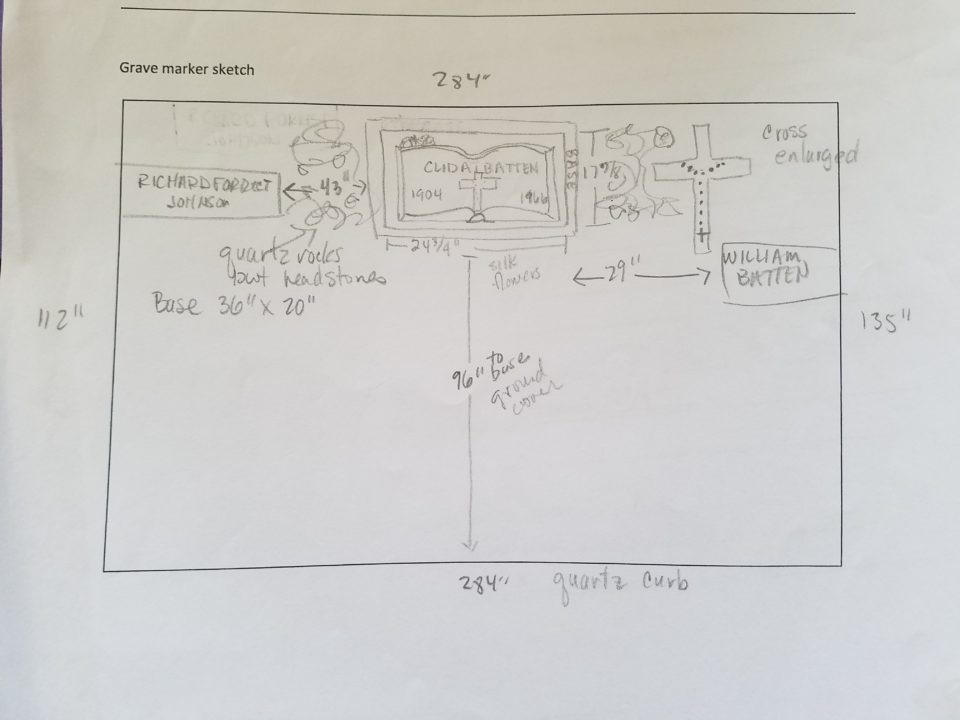 Notes/Comments
Base is eroded around edges,
Well caved for family plot. Lichen (orange, black) on concrete base only bible on face of headstone is light granite, surrounded by darker granite. Concrete Base is weathered at corners. Headstone is rock hammered on ends - smooth on face, back and top.
Biographical Data
"Batten, Clinda [Clida] (Casey) Lusty – November 21, 1903 – March 2 1966, she was born in Arkansas, going to California where she worked for the Del Monte Cannery. She had been previously married having 3 children, she then married Evan Batten in 1932, he had divorced in 1929 from Ethel Batten. They moved to Montana in 1938, having 2 children, Evan died in 1945, she married a 3rd time to Richard J. Fristedt which ended in divorce. She was a janitor for Attorney frank Blair until she leased the Cornucopia mine to the Shute Brothers.  She finally quit work, moving to South Dakota where her daughter lived. (Progressive Years page 9-10; Cemetery Section 2, Row D, Lot 3, stone read by Townshend, Ren)" [marker ID no longer valid]
For current grave location, refer to marker ID number below.
Recorder Information

Recorder Name: JAR & SML
Date Recorded: August 6th, 2015
Time Recorded: 11:09 AM

Grave Location

Deceased

Family Group: B

Names

Clida Batten Born: 1904 Died: 1966

Inscriptions

This marker has 1 inscribed surface.

Surface #1: Clida Batten; 1904 - 1966

Gender(s): Female
Ethnicitiy: n/a

Dimensions & Measurements

Marker Width: 24.75 inches
Marker Height: 17.875 inches
Marker Thickness: 10.125 inches
Base Width: 20 inches
Base Thickness: 2.75 inches

Grave Marker Info

Marker ID: 5N4B
Grave Condition: Mint
Marker Orientation: ⇘ Southeast
Footstone: (None Present)
Type of Stone: Granite
Type of Masonry: Concrete
Type of Metal: n/a
Other Materials: concrete worn around edges
Style of Grave Marker: Die with Base, curved headstone
Marker Symbols: Bible, Cross, Other
Other Marker Symbols: Flower leaf
Marker Artifacts: Fresh flowers, Silk flowers

Grave Enclosure

Vegetation: Groundcovers, Grass

Grave Marker Condition

Erosion Condition:

Pristine

Sinking/Titled Condition:

Pristine

Exfoliation Condition:

Pristine

Delamination Condition:

Pristine

Voids/Losses Condition:

Pristine

Staining Condition:

Pristine

Moss/Lichen Condition:

Pristine

Broken Pieces: 0
Causes of Condition: Settling, Weathering