Emma W. Batten
Marker Image/Sketch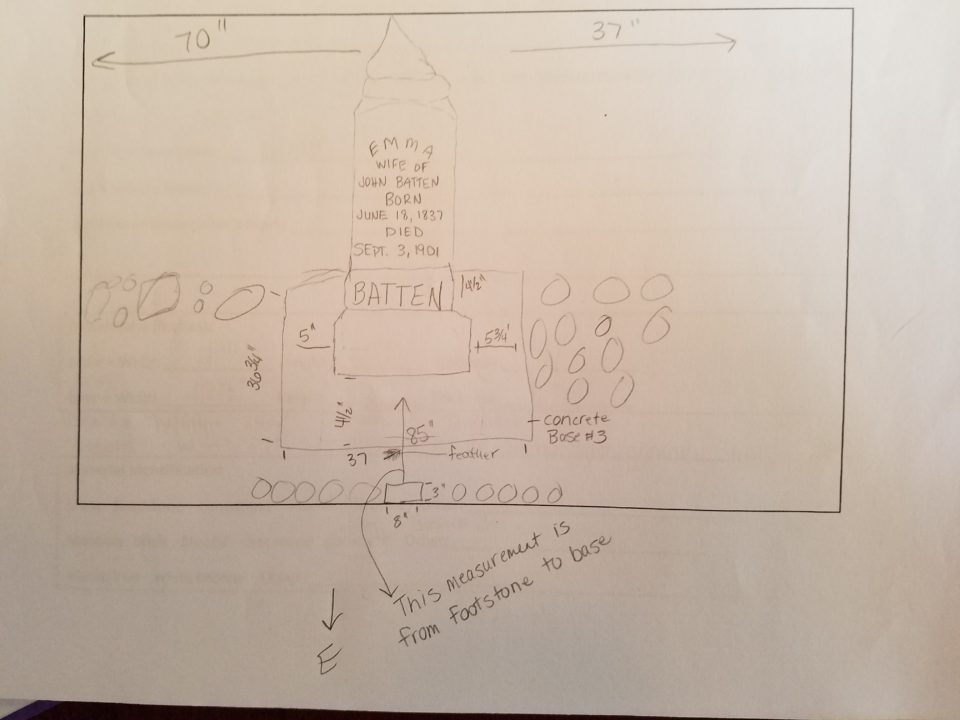 Notes/Comments
This is a pedestal tomb vaulted roof with 2 granite bases and 1 concrete base with the North Edge sunken into the ground. Base #2 is covered with a lot in the north side , some on east, and minimal everywhere else. Between pedestal and base where they meet is covered in lichen all around. Vertical words (etched areas) are not covered in lichen. Base #2 has family name only, Base #1 has her 1st name only and "wife of John Batten" and birth/death date. Footstone between quartz cobble border made of granite. Scattered vegetation, mostly dirt.
Biographical Data
"Batten, Emma W. (Griffith) – June 18, 1837 – September 3, 1901 at the age of 64 years from a paralysis. In 1877 she married John Batten from Wales. (Madisonian August 23, 1901, Progressive Years page 7; Virginia City Library Archive Obituary; Cemetary Section 2, Row A, Lot 15, stone read by Townshend, Ren)" [marker ID no longer valid]
For current grave location, refer to marker ID number below.
Recorder Information

Recorder Name: TM & SS
Date Recorded: August 5th, 2015
Time Recorded: 10:09 AM

Grave Location

Deceased

Family Group: C

Names

Emma Batten Born: 6/18/1837 Died: 9/3/1901

Inscriptions

This marker has 1 inscribed surface.

Surface #1: Emma; Wife of; John Batten; Born; June 18, 1837; Died; Sept, 3, 1901; BATTEN

Gender(s): Female
Ethnicitiy: n/a

Dimensions & Measurements

Grave Width: 107 inches
Marker Width: 11 inches
Marker Height: 42 inches
Marker Thickness: 12 inches
Base Width: 12 inches
Base Thickness: 17.5 inches

Grave Marker Info

Marker ID: 5M17C
Grave Condition: Mint
Marker Orientation: ⇒ East
Footstone: (None Present)
Type of Stone: Granite
Type of Masonry: Concrete
Type of Metal: n/a
Other Materials: Base #2 Width = 28.5", Height = 11" Thicknes = 27" Base #3 Width = 37", Height = 3" (sunken into Ground), Thick = 36.75 " (material = concrete
Style of Grave Marker: Pedestal Tomb Vaulted Roof
Marker Artifacts: Other
Other Artifacts: blue feather 8" from footstone

Grave Enclosure

Style of Enclosure: Other
Other Enclosure Style: White Quartz Cobble
Vegetation: Groundcovers

Grave Marker Condition

Erosion Condition:

Pristine

Sinking/Titled Condition:

Mild

Exfoliation Condition:

Pristine

Delamination Condition:

Pristine

Voids/Losses Condition:

Pristine

Staining Condition:

Pristine

Moss/Lichen Condition:

Mild

Broken Pieces: 0