Eunice R. Blackman
Marker Image/Sketch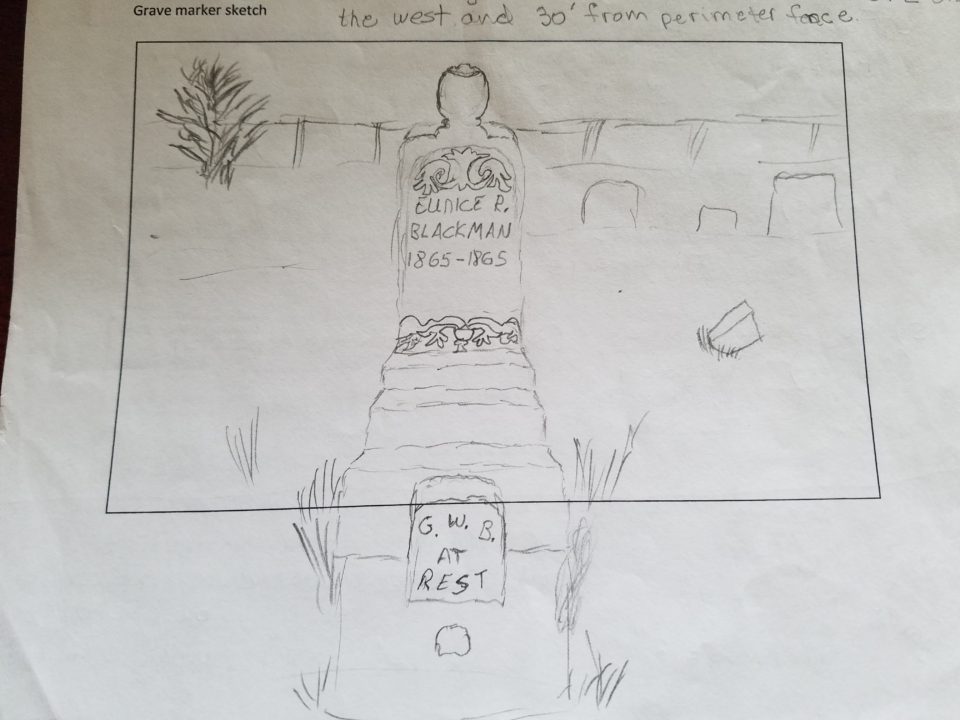 Notes/Comments
This is a complex burial plot. At first look it appears to be an individual burial but perhaps representing a family burial. Based on evidence of a smaller headstone in front of main pedestal with a second inscription. Historical records provided by ........................, indicate background of this burial plot. Multiple base pedestalwith bulbous top that has been broken at top. That top piece has been cemented into base of small headstone. Concurrently to recording this information sandhill cranes flew overhead. This grave site is 18' from the next section to the west and 30' from perimeter fence.
Biographical Data
Blackman, Eunice R. - 1865 - 1865 "At Rest" (Cemetery Section I, row B. Lot 1; stone read by Townshend, Ren) Note: I believe her parents were George w. Blackman who was born October 23, 1839 - February 17, 1882/92 in Illinois. He was a farmer and a merchant, he married Augusta C. who was born August 8, 1839 in New York and died May 30,1914, they had 4 children but only 3 lived, they were George C. March 1867; Addie b. 1872; Charles S. 1875 - May 19.1918. The family is found at Virginia City in 1870; in Silver Star in 1880; by 1900 only Augusta and the son George at Rochester but the husband is not listed, the son Charles S. is living with an uncle in Choteau, then by 1910 Augusta Is listed as widowed with George and his daughter Thelma, however George is single, and they are at Silver Star, after that they must have left the area as are no longer listed on the census. (Charles S; George w. and Augusta were pioneers, buried in Silver Star) [marker ID no longer valid]
For current grave location, refer to marker ID number below.
Recorder Information

Recorder Name: JO & MF, Kathy Milodragovich, Kate Cottingham
Date Recorded: August 5th, 2014
Time Recorded: 11:12 AM

Grave Location

Deceased

Names

Eunice R. Blackman Born: 1865 Died: 1865

Inscriptions

This marker has 2 inscribed surfaces.

Surface #1: Eunice R.; BLACKMAN; 1865 - 1865
Surface #2: small fronm headstone: G.W.B at Rest

Gender(s): Female, Infant
Ethnicitiy: n/a

Dimensions & Measurements

Grave Length: 72 inches
Grave Width: 36 inches
Marker Height: 44 inches

Grave Marker Info

Marker ID: 1B1
Grave Condition: Mint
Marker Orientation: ⇘ Southeast
Footstone: (None Present)
Type of Stone: Marble
Type of Masonry: Concrete
Type of Metal: n/a
Other Materials: Overall Pedestal is 44" (sporatic red lichen deposits) 1. Bulbous Top (marble) - height = 9"; 24" currcumferance (Top of bulb is broken off - small bulb implanted in concrete base) 2. Main Pedestal (marble) - height = 32"; width = 10"; Thickness = 10" 3. Top pedestal base (marble) - height = 5", width = 12", Thickness = 12" 4. Bottom pedestal base (marble) - height = 7", width = 15"; Thickness = 15" 5. Main granite base (granite) (spratic red lichen deposits) - height = 9"; width = 18"; thickness = 18" Small Headstone on front grave G.W.B. At REST: height = 9", width = 6", Thickness = 2" Small headstone placed on flat concrete base whose width is 12" x 17"
Style of Grave Marker: Pedestal and Tablet
Marker Symbols: Urn, Vegetation, Other
Other Marker Symbols: Scrolled vegetation on four sides on top of pedestal; North side illegible, other sides mint; Lower part of pedestal urn vegetation motif evident on four sides (North sides slightly worn)

Grave Enclosure

Grave Marker Condition

Erosion Condition:

Pristine

Sinking/Titled Condition:

Pristine

Exfoliation Condition:

Pristine

Delamination Condition:

Pristine

Voids/Losses Condition:

Pristine

Staining Condition:

Pristine

Moss/Lichen Condition:

Mild

Broken Pieces: 1
Causes of Condition: Weathering